Meet our Chairs- the Setu Chair!
Meet our Chairs- the Setu Chair!  It's instant comfort for anyone, anywhere!
The function and contours of Setu were shaped by the world around us. The designers of Studio 7.5 observed the ways technology has changed how we work, where we work, and how we move throughout the day.
We're working more collaboratively, in a variety of settings—but spending less time in each spot. We expect to be able to work anywhere and everywhere, and we need furniture that can do the same.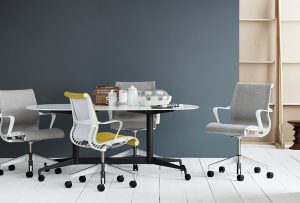 While technology has changed much about the nature of work, it hasn't changed how we all like to work: in comfort. Setu chairs are designed to deliver instant comfort from the moment you sit down.
Material innovation gives Setu chairs their unique combination of flex and strength. The Kinematic Spine uses two types of polypropylene to control resistance and support your weight as you recline. It bends and flexes with every movement, responding to the natural ways your body moves.
More structural element than textile, the finely tuned Lyris 2 elastomeric material creates Setu's one-piece seat and back. The breathable, pliable woven suspension adapts to your sitting bones, providing contouring comfort as well as aeration.
Setu is Studio 7.5's solution for today's more collaborative, less formal workspaces. From the graceful curve of its ribbon arms to the durable, uncoated H-Alloy base, every part of the Setu Chair was painstakingly shaped and reshaped to ensure that each molecule falls into the right place to deliver the desired functionality
The result is a dematerialized design that uses less material—only 17 pounds for the multipurpose chair—to support people of all sizes, up to 300 pounds. A range of upholstery and material options means you can customize Setu to serve as a focal point or to blend into any space where you work or live.
The versatility of the Kinematic Spine extends the Setu concept to a full family of seating to support a variety of postures: multipurpose chairs available with casters or glides, multipurpose stools, even a lounge chair and ottoman. With the Setu Lounge Chair, you can choose your ideal reclining position without making a single adjustment.
Setu Chair Awards:
Herman Miller's Setu Conference Stool wins Best of NeoCon Silver in the Conference Seating category. 2012
Setu chair earns prestigious Design of the Decade Gold award as "Best Sustainable Design Solution" from the Industrial Designers Society of America (IDSA). 2010
Setu chairs selected by I.D.'s 2010 Annual Design Review as a Design Distinction Winner in the Furniture category. 2010
Envelop desk and Setu chair receive Interior Design magazine's Best of Year product awards. 2009
Setu chairs receive Best of NeoCon Gold in Conference Seating category and Best of NeoCon Silver in Sofas & Lounge Seating category. 2009
Give one of our Setu Chairs a sit for yourself at one of our locations in Peoria, Bloomington or Rockford!